If you have questions or just want to hear us brag about our products please call (269) 277-9200, or contact us.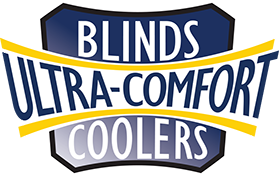 20 Reasons Why Ultra-Comfort Hunting Blinds Are The Best Hunting Blinds Available
Made from SIP panels (Structural Insulated Panels)
Insulation will not absorb water (like a Styrofoam cup)
Solid 1 1/2 thick insulated envelope (no breaks in insulation)
All aluminum exterior and interior (no wood to rot or steel to rust)
Totally animal proof and weather proof, inside and out.
Won't break down after years in the elements like other blinds
Three times the insulation value
Double the strength
Half the weight, only 170 lbs.
Easy to install on elevated platforms
Silent window operation
Only hunting blind with roof overhang around the entire blind (no water from roof running on walls)
Custom window configuration as per request
Use for gun, crossbow, or bow
Taller interior over entire floor plan
Taller entry door (no ducking to enter)
Shelf included (to be installed where desired)
Eight extruded aluminum corners to make octagon layout
All stainless steel painted fasteners
Ultra-Comfort Blinds ship flat in boxes for economical cost and quick assembly
SIP Technology At Our Core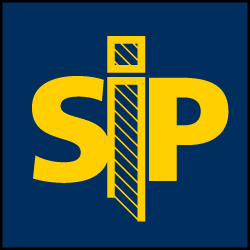 Structural Insulated Panels are at the core of Ultra-Comfort Hunting Blinds, and it's what makes them the most advanced, and truly unique hunting blind you can buy.
Two coated aluminum sheets enclose the super insulating foam panel. Three layers laminated together to make one impenetrable barrier to keep out the elements and animals, with you comfortable inside and ready for action.
No wood to rot, no steel to rust! Your Ultra-Comfort Hunting Blind will stand the test of time as well as the ravages of nature.
With our SIP technology, less is way more! Ultra-Comfort Hunting Blinds have three times the insulation value, are twice times as strong, yet are only half the weight of the standard commercial hunting blinds. Their unbelievable low weight, only 170 lbs., make them easy to ship and easy to install, even on an elevated platform.
Window Configurations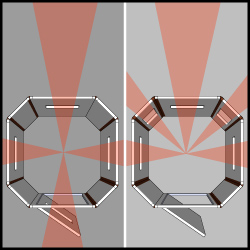 • 1 to 4 horizontal gun and crossbow windows available per blind.
• 1 to 8 vertical bow windows available per blind.
Gun, crossbow, or bow, you'll have all your angles covered!
Heavy-Duty Platform Corners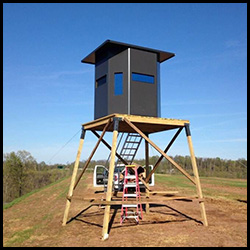 Make an elevated platform in less than two hours with our Heavy Duty Platform Corners.  Pieces are powder-coated for long life.
Now available!
Ultra-Comfort Portable Walk-In Coolers
Finally an affordable way to safely store and age your harvest.