If you have questions or just want to hear us brag about our products please call (269) 277-9200, visit www.UltraComfortBlinds.com, or click here to email.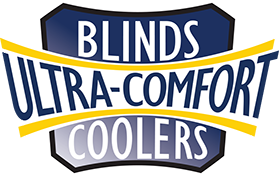 5′ Octagon Blind (without floor)
$2,750
6′ Octagon Blind (without floor)
$2,950
6′ x 9′ Octagon Blind (without floor)
$3,350
DO YOUR HOMEWORK AND COMPARE AGAINST OTHER BLINDS
17 Reasons Why Ultra-Comfort Hunting Blinds Are The Best Hunting Blinds Available
Made from Commercial SIP panels

Two coated aluminum sheets enclose continuous super-insulating foam panel

Half the Weight, Twice the Strength

Simple to elevate, only 190 lbs

3 Times the Insulation Value

Stay warm when it's cold and cool when it's hot

Aluminum Skin Inside & Out – No Wood

Won't rust or rot, CRITTER PROOF, will last a lifetime

NEW

Line-X Coated Window Sills

No Condensation Inside Blind

Complete thermal break unlike fiberglass and plastic blinds

Large Low-Profile Windows with Silent Operation

Open only slightly if desired – No noise to spook game

NEW

Door Latch with Lock and New Window Locks

Overhang Around Entire Roof Perimeter

No water from roof running on walls or windows
High Ceiling Over Entire Floor Plan

At 6'8" tall – No claustrophobic feeling

Sound Control Without Gimmicks

No carpeting or eggshell foam on walls for insects to nest

All Stainless Steel Painted Fasteners

For a lifetime of worry free maintenance

Coated With Cool Pigment Technology

Keeps outside surface cool to the touch

Easy to Install in Hard-to-Reach Hunting Sites

No heavy equipment needed

Designed to be Installed on Existing Platform

Heavy-duty platform corners available

NEW

Insulated Floor Option Available

$600

Inexpensive to Ship and Easy to Assemble

Components are shipped preassembled in a box for fast and easy assembly (approximately 1 hour)
SIP Technology At Our Core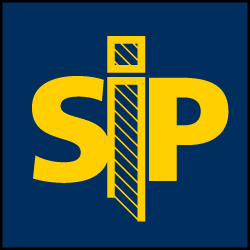 Structural Insulated Panels are at the core of Ultra-Comfort Hunting Blinds and Coolers. It's what makes them the most advanced yet practical and truly unique hunting blind and cooler you can buy. Two coated aluminum sheets enclose the continuous super-insulating foam panel giving full metal protection, not just outside, but inside as well. Three layers laminated together to make one impenetrable barrier to keep out the elements and animals. Whether it's you inside your blind or your harvest inside your cooler, you will feel comfortable knowing everything is "just right". No wood to rot, no steel to rust! Your Ultra-Comfort Hunting Blind and Cooler will stand the test of time as well as the ravages of nature. With our SIP technology, less is way more! Ultra-Comfort Hunting Blinds have three times the insulation value, are twice as strong, yet are only half the weight of the standard commercial hunting blinds. Their unbelievable low weight (only 190 lbs.) makes them inexpensive to ship, and in their preassembled state, easy to install, especially on an elevated platform.
Window Configurations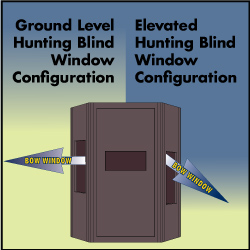 For elevated hunting blinds, install the corner panels rotated so the vertical bow window openings are lower to the floor allowing for a downward angle of attack. Hunting blinds on the ground will benefit from installing the vertical bow window panels rotated so the windows and angle of attack are higher.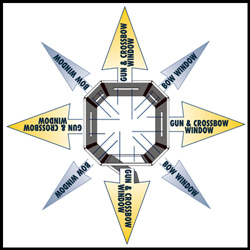 • Verticial bow windows can be installed in all panels (except door) • Larger blinds available – call for info
Heavy-Duty Platform Corners
Ultra Comfort Hunting Blinds unique lightweight SIP construction give you many options to elevate your blind.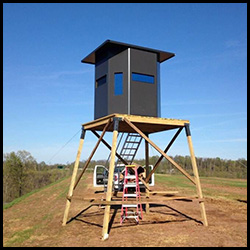 Make an elevated platform in less than two hours with our Heavy Duty Platform Corners.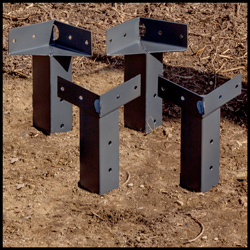 Pieces are powder-coated for long life. Set of four for only $195.
Now available!
Ultra-Comfort Portable Walk-In Meat Hanging Coolers
Finally an affordable way to safely store and age your harvest.